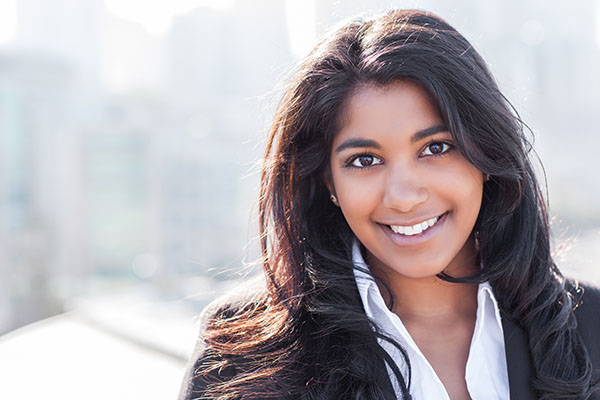 Dental veneers have become one of the most popular ways for people to transform their teeth. For patients that have heavily discolored teeth, chipped or broken teeth or gaps, veneers can be a great solution.
Because of their ease in being applied to a patients teeth and their transformation abilities, dental veneers continue and amaze patients with how easy they are to have installed and the wonderful change in the look and feel of their teeth.
What are dental veneers?
Dental veneers are a remarkably, wafer-thin shell that is custom made for a patients teeth. The customization also includes the color of the shell and gives patients a look that people who see their teeth will never know they have dental veneers on.
Dental veneers are typically made of porcelain that is durable and tough. They also are stain resistant which is another added benefit — knowing that the whiteness a patient sees when the veneers are first installed will continue for years to come without having to worry that the material will stain easily.
How are veneers installed?
The installation of dental veneers is straight forward and nothing intrusive at all. Once the dentist has examined the patient's teeth and determined that they would be a good candidate for veneers, they will slightly grind down the enamel on the teeth that the veneer will be bonded too. This is to help to ensure the bonding will set and the veneer will stay in place.
It is typically only one-half millimeter of enamel that has to be removed and will depend on which veneer brand is chosen. This aspect will have local anesthesia applied to make confident there is no discomfort while the dentist grinds down the enamel.
Is anyone not a good candidate for veneers?
Most people are good candidates. However, if someone is suffering from significant tooth decay, then dental veneers may not be the best option. This will only be covering up the issue and not fixing it and can cause damage in the long-term.
Having open communication and speaking to a dentist is the best thing a person can do. Doing this will ensure their teeth are healthy enough and that dental veneers are the best solution for their issues.
More questions about dental veneers?
Overall, a dental veneer is a great solution for anyone that has discolored or chipped teeth that they want to get fixed. Also, for discolored teeth that may not respond the best to teeth whitening, veneers can be an excellent option.
Because of the ease of their installation and straightforward maintenance, veneers have become a choice that is suggested by both general and cosmetic dentists for fixing teeth issues and making a person have a smile they are proud of having.
If you have additional questions about dental veneers, contact our office, and our trained staff will be glad to answer any questions you have. We are always excited to help guide patients in making the best decisions for their teeth and oral health. Call us today!
Request an appointment here: https://www.oaktreefamilydental.com or call Oak Tree Dental at (703) 763-5239 for an appointment in our McLean office.
Check out what others are saying about our dental services on Yelp: Dental Veneers and Dental Laminates.
---
Related Posts
August 20, 2019
Wondering if you should choose a family dentist to provide dental services for your entire family? Choosing a dentist who has decided to focus on treating all ages equals convenience. Keeping track of everyone's dental …