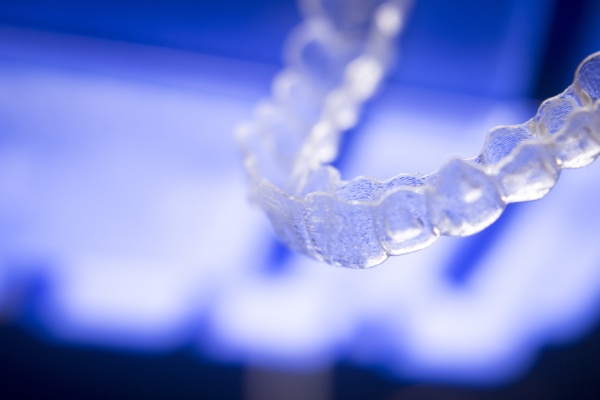 As modern dentistry continues to evolve, more and more people are considering Invisalign as a way to correct their smiles. Invisalign is a method of orthodontics that aims to straighten crooked teeth.
There is a lot to know about Invisalign, but ultimately, you may be wondering whether or not it is the right choice for you. An orthodontist or dental professional is the best person to consult with about Invisalign because they can evaluate your teeth and situation to better determine whether or not it is right. In this article, we go over what Invisalign is and how it works. This information may help you determine if it's the right choice for your smile.
Invisalign facts
Knowing all about Invisalign may help you to decide whether or not it is right for you. These clear aligners are custom-made to fit either the top half or the bottom half of your teeth. Invisalign aligners are clear in color and are removable, which are both seen as advantageous to potential wearers.
Invisalign works to shift the teeth together as opposed to individually like with traditional braces. The orthodontist will have a set of aligners made for a time period. During this time period, about every two weeks, the aligners will be changed out and new ones will be worn. Regular appointments with the orthodontist will also be had in order for them to evaluate how well the Invisalign is working.
How to tell if Invisalign is right for you
Ultimately, it is up to an orthodontist to tell you whether or not it is right for you. However, the following information may help you to decide if it is the option that you want for your smile.
Consider the process
Because Invisalign is removable, it is important to consider the process itself. Are you disciplined? Most orthodontists recommend that only disciplined people choose Invisalign because the aligners have to be worn at all times, outside of eating and cleaning. A lot of people are tempted to take them out for just a short time. But, in the long run, the treatment process will be delayed. Not all methods of orthodontics are removable, so if you struggle with discipline, then it may be best to consider a different option.
Another part of the process is the adjustments. Invisalign tends to produce quicker results than traditional braces because the aligner moves the teeth together as opposed to individually. With that being said, it is important to be prepared for quicker turnaround times for adjustments.
Contact us today
Invisalign can help transform your smile! Get ready to smile confidently. If you want to further explore Invisalign, then feel free to reach out to our office today. Our team of Invisalign specialists would be happy to answer any questions that you have. Give us a call or stop by our office to get yourself started with the Invisalign process. We are here to help you!
Request an appointment here: https://www.oaktreefamilydental.com or call Oak Tree Dental at (703) 763-5239 for an appointment in our McLean office.
Check out what others are saying about our services on Yelp: Read our Yelp reviews.
---
Related Posts
September 19, 2019
If you are a parent, it is normal to wonder when your child should receive routine dental care. You likely know that the baby teeth usually begin to erupt at six months, but do children …