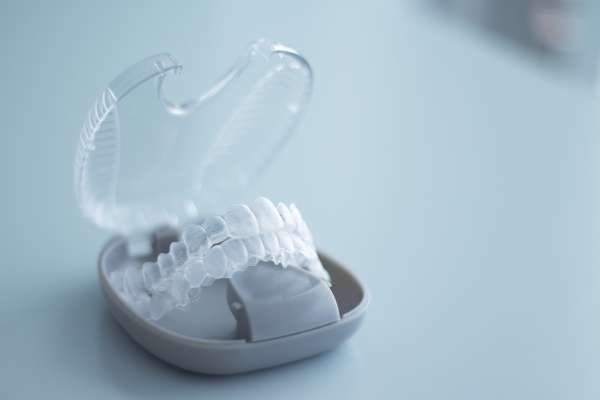 Invisible braces are a great way to achieve a more attractive smile without anyone else noticing. They are made of a transparent material, which allow your pearly whites to continue to sparkle and look great during treatment. By learning more about the invisible braces treatment process, you can make an informed decision about treatment.
An overview of invisible braces
Invisible braces are for adults who would otherwise feel embarrassed when wearing traditional metal braces while at work or in social situations. The following is a complete overview of invisible braces, including what they are exactly, when to consider treatment and how the process works.
What are invisible braces?
Invisible braces are a form of orthodontic treatment in which transparent trays, known as clear aligners, are worn over the surface of teeth, gradually pulling them into a well-aligned position. Unlike traditional braces, which are easy to see by others, invisible braces are just that, essentially invisible while the patient wears them. Also, the patient can remove the clear aligners anytime they need to. However, it is highly encouraged to wear them between 20-22 hours each day.
When to consider invisible braces
Anyone who has a mild to moderate misalignment that causes cosmetic or oral health complications should consider how invisible braces can benefit them. Invisible braces work well for crooked teeth, crowded teeth, and various bite issues. When both traditional and invisible braces are viable options, invisible braces might work more for patients who prefer a more discreet method of treatment.
Benefits of invisible braces
There are many benefits to invisible braces that other forms of teeth straightening cannot provide. These benefits include the ability for the patient to straighten their smile discreetly and being able to remove the aligners anytime it is necessary to do so. Overall, invisible braces, known as clear aligners, are an effective way to straighten one's smile without anyone else noticing. Having the ability to remove the aligners anytime the patient wants makes life much more convenient throughout treatment. Invisible braces also provide the patient with the ability to more effortlessly keep good oral hygiene during treatment.
How the process works
The first step toward invisible braces is to schedule an initial consultation with an orthodontist who offers clear aligners treatment. On the first visit, the orthodontist conducts an oral examination, which may include dental X-rays, and determines if treatment is a viable option. If the patient is eligible, meaning treatment is able to fix the patients' misalignment, a dental impression is taken, which is used to form the custom clear aligners. Routine visits and follow-up care are required during the treatment process.
Talk to an orthodontist about adult invisible braces
If you are interested in adult invisible braces and want to gain a more attractive smile, reach out to your orthodontist. Find out how your orthodontist can help you achieve the smile of your dreams. The dental professional can help you through the entire invisible braces process, from the initial consultation to find out if you are a candidate to providing aftercare when treatment is complete.
Request an appointment here: https://www.oaktreefamilydental.com or call Oak Tree Dental at (703) 763-5239 for an appointment in our McLean office.
Check out what others are saying about our services on Yelp: Read our Yelp reviews.
---
Related Posts
October 23, 2019
Gum recession is an oral health issue that occurs when an individual's gum tissue moves away or separates from the tooth. As the gum tissue recedes, it forms a small pocket of space between the …