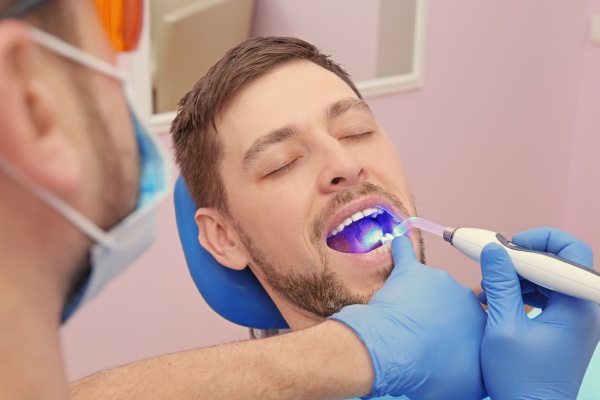 Having bright white teeth is something that everyone wants to have, because who doesn't love a pearly white smile?! However, that is sometimes hard due to staining and discoloration that affects the teeth over time. But, that isn't to say that there isn't hope!
Whiter teeth can be achieved, but being aware of how is essential. There are two main types of teeth whitening treatments – at home products that are bought in a store or visiting a dentist's office for a professional treatment.
Whitening products from a store seem to be easier on the wallet and a person is in complete control, but some often wonder whether or not it is actually beneficial.
At-home teeth whitening
When a person chooses to whiten their own teeth at home, they may wonder how effective it will actually be. While no type of whitening treatment is as efficient as an in-office one, there are still some other options that can work. However, it's up to the person to determine how well at-home products work.
At-home teeth whitening treatments usually come in the form of kits. There are gels and whitening strips that people can buy at a store in order to achieve whiter teeth.
Whitening strips: These usually come in a box with a supply of about a month's worth. A person will put them on the surface of their teeth for a few minutes, each day, for a few weeks.
Whitening gels: Gel kits usually contain a tray that the gel will be put into. The person will then bite down on the tray for a period of time so that the teeth are plunged within the gel.
How effective is teeth whitening at home?
At-home teeth whitening isn't nearly as effective as in-office professional treatments but that isn't to say that it doesn't work. It is important that a person has realistic expectations about at-home whitening.
Whitening strips and gel kits are said to produce the best results outside of in-office treatments. However, one should note that the results won't appear overnight. It is crucial that a person remains disciplined with these products, as maintaining a routine of administering the gel or strips will help achieve better results.
If one uses the strips or the gel for two days then doesn't use them again for a week, the results may not be as effective. Because these at-home products don't contain as high amounts of chemicals, it is safe to use them repeatedly over a couple of weeks in order to obtain whiter teeth. However, they are not meant to be used for multiples weeks or months as sensitivity or decay could occur.
Being aware of how effective at-home teeth whitening is can be helpful to those considering their options. While at-home products aren't as powerful as in-office treatments, they do still help with eliminating stains on the teeth.
Talking with a dentist about the best at-home products for whitening can be helpful too. Give us a call or stop in today if you have questions that weren't answered in this article.
Are you considering at-home whitening in the McLean area? Get more information at https://www.oaktreefamilydental.com.
Check out what others are saying about our dental services on Yelp: Teeth Whitening.
---
Related Posts
June 16, 2019
Everyone wants whiter teeth, and many are curious about home teeth whitening treatments. By understanding whether or not home teeth whitening treatments are effective, you can make an informed decision as to whether you should …